Nutrition Services
We recognize the connection between good nutrition and student success. This is why our mission is to build healthier students by providing nutritious meals that meet the USDA National School Lunch Program (NSLP) nutritional standards. 
Free Summer Meals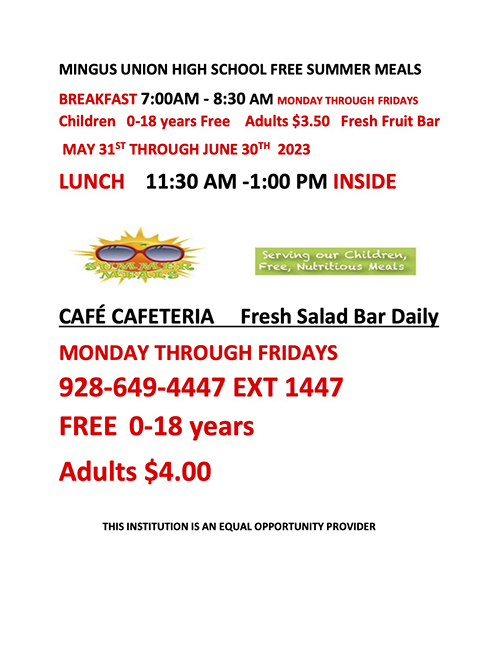 Monday through Friday, May 31 through June 30, we will be serving breakfast from 7:00 to 8:30 a.m. and lunch from 11:30 a.m. to 1:00 p.m. Children up to age 18 are free. Adult breakfast meals are $3.50 and adult lunch meals are $4.00. Includes a fresh fruit and salad bar.
Meal Assistance Program
NSLP Meal Assistance is a need-based program providing breakfast and lunch to students at no charge or for a significantly reduced price. 
Please complete the application to determine whether your family qualifies. Only one application is required per family, and all information is confidential. Families may apply at any time during the school year, and you can expect a response within 10 days of submitting your application.
Meal Accounts
We've made paying for lunch easy for you. Our cashless system keeps the lines moving so our students have more time to enjoy their meal. 
We do not allow students to charge meals; however, we will provide an alternate meal to students who do not have funds in their account. We will notify students at the register when their account balance goes below $10.
We will also accept prepayment in cash, check, or money order. Please include the student's name and ID number, and make checks payable to MUHS.
Nutrition Department Staff